TOUGH GEAR FOR TOUGH TIMES
See Our American Made Products

"This is the best paracord I have come across. I highly recommend this
product to anyone in the market for such. I am glad that I came across
their product and took a chance on it's quality. I will be ordering from
them again... being a veteran, I very much appreciate their support for
our military service members."
- B. Link
"I am an avid outdoorsman and former Army infantry officer with multiple
combat deployments. I have used paracord for many applications...
I would rate this paracord as a 'full confidence' addition to my kit"
- Coastal Reader
"GET SOME, see for yourself, worth the price...
This is not a compensated review, just the
opinion of a recent 20+ year military retiree."
- Schoen R.
"I'm a veteran with seven years of fairly recent active duty military
service, all served while assigned to mobility units... if you're
on the fence at all about getting this p-cord, I'd say drop
a couple extra cents and get the best, with the best."
- Scotty
"Better than Army issued - I've been out of the service for a few years
and finally ran out of issued 550 cord. Reviews for this one seemed good.
They were right... Definitely worth it."
- TOUGH-GRID Customer
"We use a ton of paracord in my house (veteran central here). Thank you
TOUGH-GRID we love your cord and will be buying more very shortly."
- Kuno
"As a retired Army Sergeant Major, I stay active and participate in a lot of
backcountry hikes in Colorado... I would highly recommend their product...
It's also refreshing to know that great products are still made in the USA."
- TOUGH-GRID Customer
"These guys set a new high standard in efficient, friendly and dedicated
customer service. Amazing! Now to figure out how to get them in charge of
the wireless telephone services or government bureaucracy, where they
could teach a thing or two about respect for customers, high quality service
and business efficiency."
- Alexander Krem
Now More Than 19,000 5-Star Reviews on Amazon!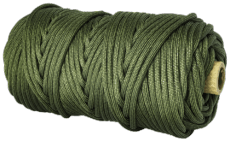 TOUGH-GRID 750lb
Mil-Spec Paracord
750 Pound Test TRUE "Mil-Spec" (Military Specifications) Mil-C-5040-H Type IV Paracord 100% Nylon
Ideal for Bracelets, Survival, Belts, Wrapping Tools, Lifting, Backpacking, Hanging Bear Bags and Towing Moderately Heavy Objects.
Uses Limited ONLY by Your Imagination!

TOUGH-GRID 700lb
Double Reflective Paracord
700 Pound Test "Hybrid Mil-Spec" Reflective Paracord. This 100% Nylon Cord Has Two Reflective Strands, Making it the Ultimate-High_Visibility Parachute Cord!
Great for Guy Lines, Camping, Hiking, Cycling, Boating, Gifts, Home Fixes, Cabins, Bug-out Locations or Anything You Need High-Visibility Cord For!

TOUGH-GRID 5,000lb
Ultra Cord
100% UHMWPE – 5,000lb Average Break Strength. 15X Stronger Than Steel Cable, Extremely Low-Stretch, & So Light Weight it Floats on Water! Perfect for Boating. Check Out Our Color Options and Get a Spool Today. Keep some anywhere you have emergency supplies. Great for Replacing Your Old Steel Winch Cable. Ultra-Cord Will Not Fail You!